Sophie Ekman has served as a school physician for forty years and worked towards school health services acting as a local public health agencie. Major public health efforts have been made on many parts. From introducing AIDS education in Solna schools in 1987, the anti-drug movement Just Say No, the anti-smoking campaign for both parents and students, the age limit on tobacco, obesity, and in a broad sense to improve children's psychosocial health. Since 1987, Sophie Ekman's dedication has been to increase the understanding of neuropsychiatric disorders such as ADHD and Aspergrs syndrome, improving investigative procedure and cooperation "BUP" ,school health and with Uppsala University Neuropsychiatric Unit and Prima Children in Stockholm. Close collaboration with Child Neuropsychiatric Association.
Year 1997 she was given the epithet "the voice of the restless and unbehaved children" by SvD
Click on the article to read it in full size.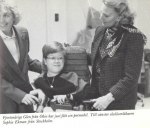 Marianne Bernadotte, health care honorary doctor at Karolinska Institutet. Showed an early interest for the disabled, in 1985 she helped the Disability Institute then called SVCR, where she met Per Uddén, who was the driving force for the development of the permobile. With great enthusiasm Marianne Bernadotte became involved in the launch of the permobile. Many big names were involved such as LO chief Arne Geijer and Prime Minister Tage Erlander. The picture to the right shows when 14-year-old Glenn Callivan in Ohio, United States gets his Permobile 1995, when the first Permobile was given to private individuals.